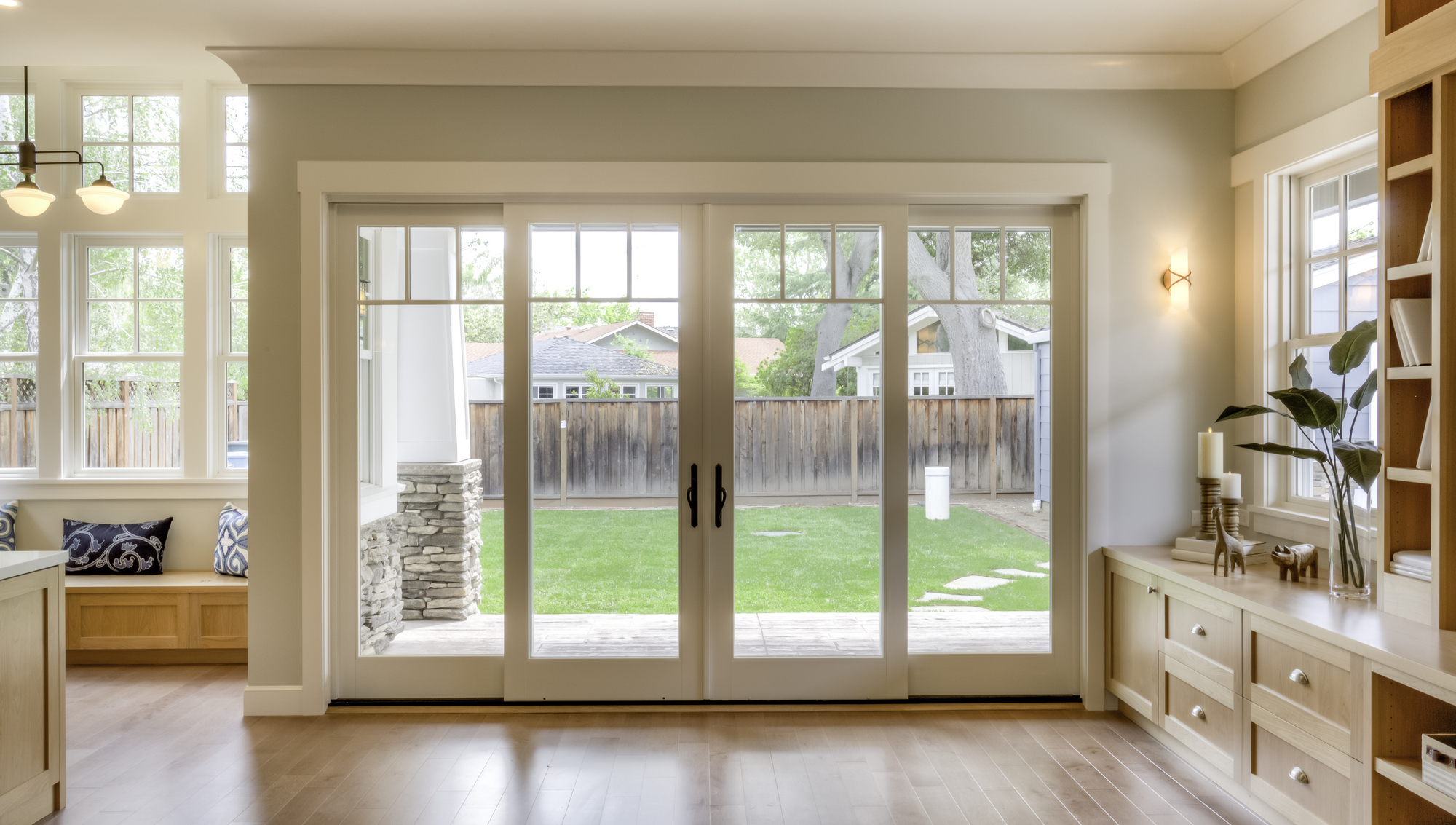 Four Panel Patio Doors
Are you looking for a way to add expansive views and enhance your indoor-outdoor lifestyle? A new four-panel patio door could be just what you need. These extra-wide doors provide a grand feeling that ordinary patio doors can't. Plus, when you choose WindowFits as your supplier and installer, your satisfaction is guaranteed!
Homes with a large enough wall to accommodate four-panel patio doors benefit from the great versatility of this installation. They may vary visually and in how they operate, but all types of four-panel doors share many benefits:
Extra natural light: A majority of homeowners today want a bright, airy house. Since patio doors are typically made of glass, having four panels is tantamount to an entire wall of windows. This lightens up your home and reduces the need for artificial lighting.
Panoramic scenery: Whether your home sits near the mountains, overlooks a lake, or boasts a gorgeous garden, having a four-panel patio door lets you soak up the views even while inside.
Impressive return on investment: Any time you customize your home, you want the investment to pay you back. If you plan to stick around, you'll benefit from the luxurious feel of your four-panel patio door for years to come. If you think you might move soon, the upgrade may allow you to increase your home's asking price.
Integrated indoor-outdoor living area: The wide opening of a four-panel patio door brings more of the outside in. This is beneficial whether you love hosting parties or simply want to feel like you're outside even while lounging indoors.
It's best to call Windowfits at (951) 677-2593 or fill out a contact form for more details on these offers. As a family owned and run business, Windowfits Exteriors takes great pride in a quick response to customers and appreciate the thousands of referrals they've received over their 15 years of business. Are you ready to have your windows replaced? Contact us today.
Free Estimates
Let's get the ball rolling on your new Window and Door project.